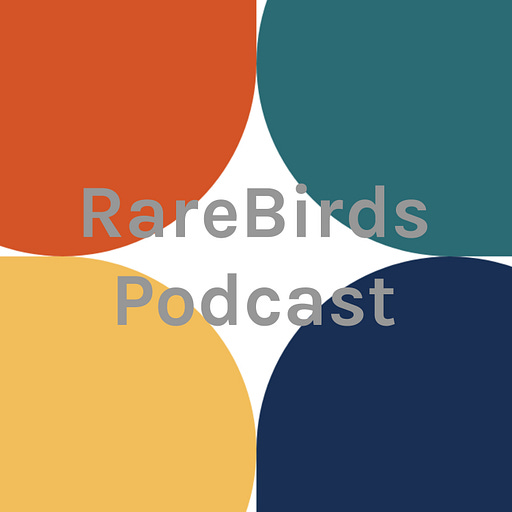 Jul 13, 2021 • 46M
#180 The Blockchain Potential in Somalia: Education + Adoption-Blockchain in Africa
How One Somali Entrepreneur Believes Blockchain Can Create Possibilities in His Country
Stories of startups from emerging markets.
Greetings Rare Ones🎉,
We have landed on Series 9: Education + Adoption-Blockchain in Africa. Are you new here? Welcome to the family of Rare Ones. This is the Rare Birds Emerging Market Podcast Newsletter. Each week I send out this long form newsletter to our community of Rare Ones as I have conversations with early stage startup founders, ecosystem builders and angel investors from across emerging markets. This long form newsletter is a deep dive based on the podcast conversation.

The Rare Birds Emerging Podcast Newsletter is written for Emerging Market early stage startup founders, ecosystem builders, angel investors and the curious.
Rare Ones come here to gain fresh perspective and insights into what is happening on the ground in emerging markets from the people who are creating shifts and driving the action. It is where they can connect through stories which are distinctive, honest and relatable. Join your fellow tribe of Rare Ones as we course correct and create new narratives together!

Get past podcast newsletters from the archives 👉🏾 here.

Additionally, I send out the Weekly News, an action packed weekly curation of blockchain news and blockchain podcasts from across emerging markets featured in the Rare Birds Magazine.

💡A Snippet 💡

Blockchain News This Week:

📑Meet the Crypto Payment Gateway Startup that Strives to Become the Stripe of Africa
📑Philippine Stock Exchange to Be the Site for Crypto Trading

Blockchain Podcasts This Week:

📻 Social Media Trends in Emerging Markets

📻 'No way back' from China's bitcoin mining clampdown, says The Block's Wolfie Zhao

Get more from this week's issue (RareBirds Issue 24) 👉🏾 here.

Lastly, My Sunday Sevens🌱 a list of seven things I have been exploring for the week.

🛠 Quick Recap🛠
🏳️ Analysis from the Rare Birds Emerging Markets Podcast
🏳️ News from the Rare Birds Magazine
🏳️ Updates from My Sunday Sevens
This week we enter the rabbit hole of education and adoption by analyzing a few concepts Abbas brought up in our conversation. We will do so with a series of essential BIG Questions, so together we can collectively understand: The Blockchain Potential in Somalia and beyond.
Our fear of technology is really a fear of empowerment. We now have the ability to design the reality we live in, and we have to step up to the occasion."



Somalia sits in the Horn of Africa. It is a country with a long, complex, rich, and at times turbulent history.
👇Have a Glance (i) 👇
Source: IMTC
The Somali capital city of Mogadishu is expected to have a population of 36.4M people by 2100. A theme we have covered before and which is one widely known and understood is the greying of the populations in Japan and Europe, followed by North America with the contrasts of booming youth populations in developing countries. The top ten countries with the highest group of young people are all in Africa. Somali falls within this list.

👇Have a Glance (ii) 👇
Source: Visual Capitalist


🌱 Essential BIG Question:  When we speak of potential what exactly are we referring to?

Blockchain (a distributed ledger technology-DLT) and cryptocurrency are often used interchangeably, however it should be understood that blockchain is the underlying technology which enables the creation of a cryptocurrency (the most popular being Bitcoin). The potential of the technology itself goes far beyond cryptocurrency and finance. It should be noted that we also see the terms digital currency and cryptocurrency used interchangeably, but they too, are very different (we will cover this in a separate newsletter).
Must Listen: Invest Like the Best with Patrick O'Shaughnessy
"I think the verification of identity is the biggest win and the lowest hanging fruit. " Abbas Gassem

ID Verification

Abbas mentioned in our conversation the concerns surrounding voter manipulation. Last year South Korea launched a blockchain-based digitial ID programme. The country has been researching blockchain and other DLTs for almost five years. Blockchain facilitates a process which allows individuals to have complete agency over their digital identities, commonly referred to as self-sovereign identity.
👇Have a Glance (iii) 👇
Source: NEC



"The good thing about Somalia is the banks are not powerful. The government doesn't have its own currency (we've been using the dollar for 30+ years). People make mobile payments. The population is young and tech savvy. We have all the right ingredients. "

Abbas Gassem



Abbas and I discussed the fact that banks have been relatively non-existent as a direct consequence of the 1991 war. Bereft of land lines and banks, the Somali telcoms industry flourished. Telcos in Somalia have been a huge success story! In February of this year, Hormuud Telecom Somalia Inc, one of the popular telcos in the country received the first ever mobile money license issued by The Central Bank of Somalia. This was a significant step in providing formal infrastructure for the country's digital payments system.

Mobile money has taken on new meaning in Somalia! A 2018 World Bank report reported, approximately 155 million transactions, worth $2.7 billion, were recorded in Somalia per month. Cash is non-existent in the country with over 70 percent of adults using mobile money services regularly. Some refer to it as a mobile money revolution, which has helped transform the economic landscape and served the most vulnerable.
Thinking Point

The African continent is a leader in mobile money adoption as per the GSMA State of the Industry Report on Mobile Money 2020; an in depth analysis of the global mobile money system. The African continent had 562m registered mobile users in 2020, this is an increase from 2019 where registered users were at 469m.

👇Have a Glance (iv) 👇
Source: GSMA
All that said, despite the continent's success as a bastion of mobile money adoption, many Africans still use cash and lack access to digital financial services. This could be to a confluence of factors including high costs of usage or irregular income streams.
Suggested Reading: GSMA State of the Industry Report on Mobile Money
Excerpt: "As predicted in last year's State of the Industry report, registered accounts in Africa comfortably surpassed the half billion mark. Sub-Saharan Africa has been at the forefront of the mobile money industry for over a decade, and in 2020 continued to account for the majority of growth (43 per cent of all new accounts) (see Figure 2). By the end of the year, there were 562 million registered accounts in the region, over 150 million of which were active on a monthly basis. Although absolute growth was highest in West and East Africa, Southern Africa grew the fastest at 24 per cent year on year."

To reiterate what Abbas said, banks have no control, therefore the traditional systems that are usually resistant to change are non-existent, there is no incumbent. As for the currency (Somali Shillings), due to the collapse of the government during the war, Abbas told me Somalis have not used their own currency in almost thirty years (most of it is counterfeit) and money transfers are done in dollars.
"Somalia is a cashless society. Moving to a digital currency is not a big issue. Government just needs to take the lead. Adoption is easy because people are already using mobile phones. " Abbas Gassem
All of this, combined with a youthful and tech savvy population make his country, he believes a perfect fit for using blockchain technology to support a digital currency. He also believes that once the government adopts digital currency, they can increase the tax base.
Internally Displaced People (IDPs) and Women

Somalia currently has a significant number of IDPs many of whom are women. The transmission of aid is often open to abuse by middle men, with proper tracking through IDs he believes blockchain will help with record keeping and tracking.
🌱 Essential BIG Question: Why is having a blank canvas an advantage for countries like Somalia?

At the beginning of the conversation Abbas mentioned the blank canvas. Somalia's civil war in 1991 essentially paved the way for a cashless society. As egregious as war is, it gives countries an opportunity to start again (with the right leadership in place). In 1991 (the same time when Somalia's civil war broke out) when Estonia declared its independence post dissolution of the USSR it had a blank canvas from which to commence. Today, it is the world's most advanced digital society. Somalia as Abbas said, is still transitioning from a failed state to a proper government, but with the right moves he believes anything is indeed possible. Whilst Estonia may seem far reaching, even closer to home is Rwanda. An East African country once torn apart by genocide is now arguably its own success story. The country is often referred to as the "Singapore of Africa." It is widely understood that Rwanda's leader Paul Kagame has studied the work of Lee Kwan Yew the Father of modern-day Singapore. This is an attempt to emulate the economic model used to propel Singapore from being a newly independent poor country (devoid of natural resources) to one of the world's most prosperous.


🌱 Essential BIG Question: How else can blockchain be used to transform Somalia?
Blockchain Remittance Service

Blockchain Payments App
Abbas believes that the above are plausible if the current existing frameworks in the country are considered. For example, feature phones are widely used in the country, therefore any payment system should be built with this in mind. Cambodia is a country that has been exploring and implementing blockchain for both remittances and payments.

National Digital Payments System

In 2016 Cambodia's Central Bank began developing Project Bakong, a national digital payment system to support financial inclusion as well as to relaunch the country's official currency. Like Somalia, most Cambodians prefer and use the dollar. In the Project Bakong White Paper the aims of the project are outlined.

Must Read: Project Bakong Next Generation Payment System

Excerpt: "The use of blockchain technology to develop a central bank digital currency ("CBDC") has attracted attention of central bankers across the globe. While the digital currency, i.e. Bitcoin, was first created in response to the financial crisis. Since then, several central banks around the globe have been exploring the introduction of CBDC, and new technological innovations arising from blockchain and distributed ledger technology ("DLT"). It is believed that such technologies will not only be capable of developing digital currencies, but also potentially unlock new possibilities with more efficiency. For developed countries, the introduction of CBDC is in line with the declining use of cash, while for developing countries it intends to promote financial inclusion and improve inefficiencies, especially in payment systems."

Suggested Listening: Coindesk Money Reimagined

Inside Bakong: How Cambodia Hopes to Leapfrog Into the Future With Digital Currency

Cross Border Payments

Many Cambodians work in nearby countries such as Malaysia and send their earnings back home. Blockchain is currently being used to enable fast and low-cost remittance payments in the country. SBI Ripple Asia, a joint venture between SBI Holdings (a Japanese firm) and Ripple (a blockchain based payments network), has created Cambodia's first international remittance service that uses blockchain. SBI Ripple Asia also has remittance services in both Thailand and Vietnam.

🌱 Essential BIG Question: What would it take for implementation to happen in Somalia?

Abbas pointed out three key areas where he believes progress can be made:
Presentation to the right decision makers

Tackling challenges one-by-one, beginning with the lowest hanging fruit

Thinking like a startup as opposed to a government-ran project

Final Thoughts

Abbas was clear that Somalia despite all its troubles has potential. I think we have come to appreciate with time that problems can be seen as being too big to circumvent or an opportunity waiting to be explored. The latter requires time, patience and an understanding of the nuance which exists in each country. A systematic yet fluid approach with a view on culture (which includes religion), economics and politics is necessary. Abbas reiterated at the end of our conversation that any vision for entrepreneurial ventures in Somalia or other emerging markets will be achieved with measured thinking, conscious actions, hard work and focus. For him, there is no place like home and contributing to its sustainable development is a noble act driven by purpose.

Abbas and I covered quite a bit in this conversation:
EPISODE HIGHLIGHTS
Abbas' Background Story & Career Profile

Gawaarida, the online car marketplace

An Introduction to the Tech Landscape in Somalia

Blockchain Regulation in Somalia

The Hawala Money System

Mobile Money in Somalia

The Role of Feature Phones in Digital Payments

Digital Identity for Somali Voting System and Internally Displaced People

What Does It Take To Make This Change?

The Benefits of Not Having Legacy Systems

Lessons from Abbas

Limitless Opportunities in Developing Countries
As always, thanks for reading and for more exchanges, questions, critiques and ideas message me via joann@rarebirdshq.com

Bye for now and continue to stay Rare.

JoXx
---

Follow Rare Birds:

🗝 ⛓FaceBook 🗝⛓LinkedIn 🗝 ⛓Twitter 🗝⛓Instagram